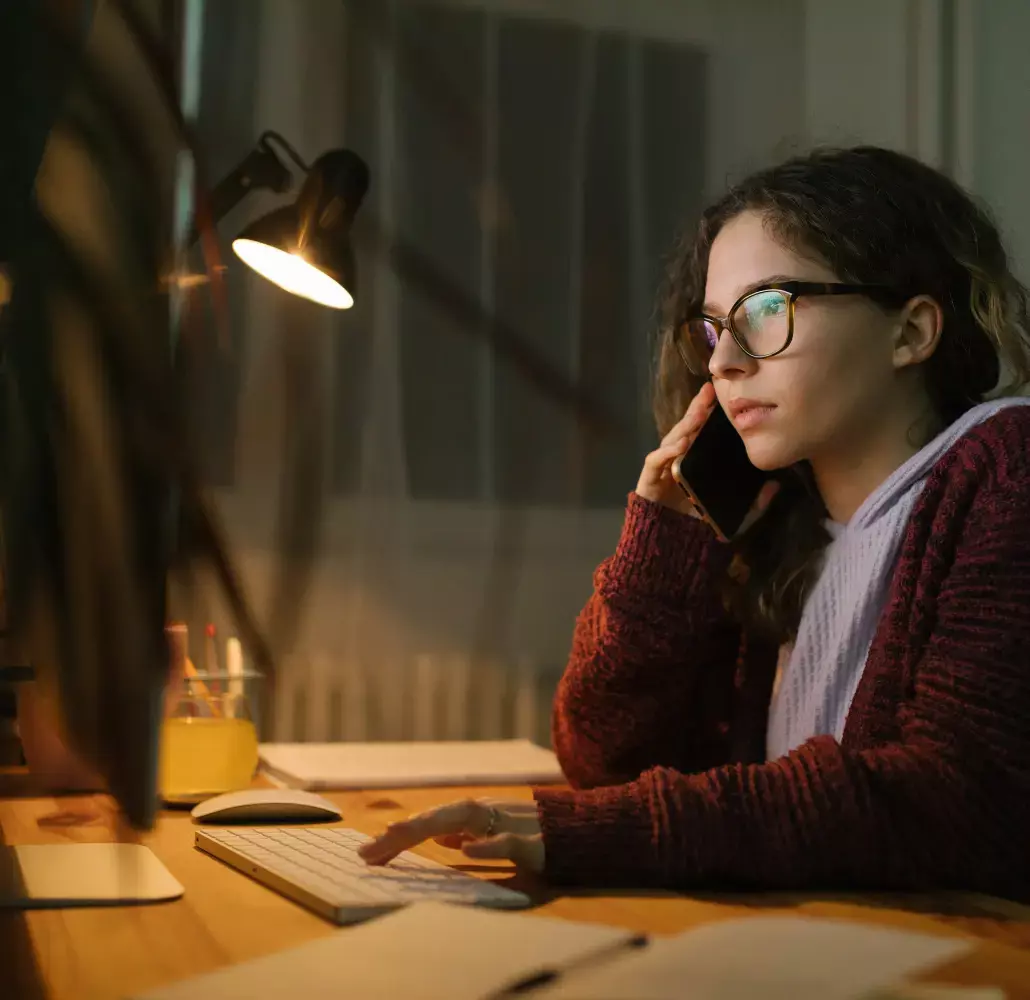 1. Get in Touch
Our Admissions Team is ready 24/7 to listen to your needs and answer your questions about our virtual Intensive Outpatient Program. Connect with us via phone or submit our form, and we'll reach out shortly.
2. Share Your Story
After you learn more about our program, you'll meet with our clinical team to discuss your mental health history, needs, and goals. We'll also work with your insurance company to get you started as soon as possible. Your family's urgency is our priority.
3. Get Matched
Once you connect with our Admissions Team, we'll collect your insurance information and work with your plan to get you started as soon as possible. You'll then meet with our clinical team to discuss your mental health history, needs, and goals.
4. Start Your Care Experience
In addition to personalized groups, you'll continue with weekly 1:1 therapy and family therapy to create a multi-pronged approach to care that helps you process the source of your struggles.
5. Continue the Connection
Long-term healing is the ultimate goal of our program. We want you to have the appropriate tools to continue to build a healthy and fulfilling life.
1
An evidence-based approach that's proven to work
In several peer-reviewed studies, Charlie Health's virtual IOP was found to be an effective treatment option for many serious mental health diagnoses.
2
Always available, always accessible
Clients and families can access Charlie Health from the comfort and convenience of home with a variety of scheduling tracks. Plus, we partner with major commercial insurance providers and Medicaid where available to ensure that treatment is a right, not a privilege.
3
Hyper-customized care
We use intake data to create a customized treatment program and pair you with a peer group that can relate to your lived experiences.
In their words
Client & family testimonials
Young Adult
"I have never felt so happy with myself."
I struggled very much with anxiety and panic disorder and depression. I was super nervous about joining Charlie Health but now that I have completed the program, I have never felt so happy with myself. I have been able to control my mental health and live my life.
—Anonymous
Young Adult
"This program saved my life."
I came to CH with so much trauma and undiagnosed mental health issues. I couldn't see how things could possibly get better for me, but Charlie Health gave me reason to keep going, to keep trying. This program saved my life.
—Elora
Parent
"My daughter was acting like herself again."
I really didn't know what to do for my daughter before Charlie Health. I've always felt I've been alone in this. I felt so helpless. Within the first week [of her starting Charlie Health], my daughter was acting like herself again. Charlie Health has given my daughter and me lifelong tools to navigate her anxiety and panic attacks. I've been blown away. I'm very impressed and very happy.
—Tasia C.

Our evidence-based approaches to care
How do I know if IOP is an appropriate treatment for me or my loved one?
Our primary program offering—virtual intensive outpatient care (IOP)—is an appropriate level of care for teens and young adults who need more than weekly therapeutic support. Many of our clients have either recently discharged from a higher level of care (i.e. a residential treatment facility or emergency department admission) or are seeking more support than traditional weekly talk therapy.
Can I use my insurance for Charlie Health services?
We accept major insurance providers and Medicaid. Your financial circumstances should never be a barrier to receiving care.
Is virtual mental healthcare effective?
When teens, young adults, and families no longer have to drive back and forth to in-person therapy, it's easier for them to fully participate in treatment. Virtual care also means personalized care, which is why our outcomes are well above industry averages.
What if I am taking medications or need to meet with a psychiatrist?
Psychiatrists are available as needed for medication management, dependent on which state you are located in, via an affiliated medical provider. Psychiatry services are provided by psychiatrists and other clinicians employed by independently owned and operated professional practices and not by Charlie Health, Inc. or its subsidiaries.
I am a provider looking to learn more about Charlie Health. How should I get in touch?
We are eager to connect and share our program with other providers and potential partners. Our Outreach teams across the country are committed to connecting their communities with accessible, evidence-based, and compassionate mental healthcare. To get in touch, learn more, or make a referral, please visit our general referral page.
Comprehensive mental health treatment from home
92% of parents & caregivers would recommend Charlie Health to a friend or family member